Houston's non-emergency online service directory and service request site.
Please call 311 or 713.837.0311 to submit a service request, or submit online below.
* New Municipal Courts Kiosks are located inside the HPD substations located at
&nbsp&nbsp&nbsp&nbsp&nbsp2855 Bay Area Blvd in Clear Lake and at 3915 Rustic Woods in Kingwood.
* Test drive our new 311 Mobile Website on your desktop; it is fully functional.
* Public Notice Ė TCEQ MCL Coliform Violation Notices. English and Spanish available.


311 Links
For live assistance including TTY callers, dial 311. Some mobile phone users or persons outside the Houston area may need to dial 713.837.0311.


_________________________________
311 Smartphone App
iPhone and Android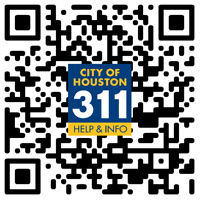 Look at what's new!!!
Your input helps us add to and improve our 311 website.
polls
Thank you for voting
Houston 311 Call Center
Live Web Announcements
Video and Photo Archives
click here For Pop-Up video
View the Houston 311 Call Center's Live Webcam, online slide show or current "How-To" 311 video tutorials.
&nbsp&nbsp&nbsp Service Request Instructions
Having difficulty entering an address on the online service request site, try the helpful tips page.
To access City department and online service requests, click on the categories to the left, or search the full service directory menu via the Info Index.
If you donít find any category on this site for your specific service request, please click on the "Email 311" link to your left.
&nbsp&nbsp&nbsp&nbsp&nbsp&nbsp&nbsp&nbsp&nbsp&nbsp&nbsp&nbsp&nbsp&nbsp&nbsp